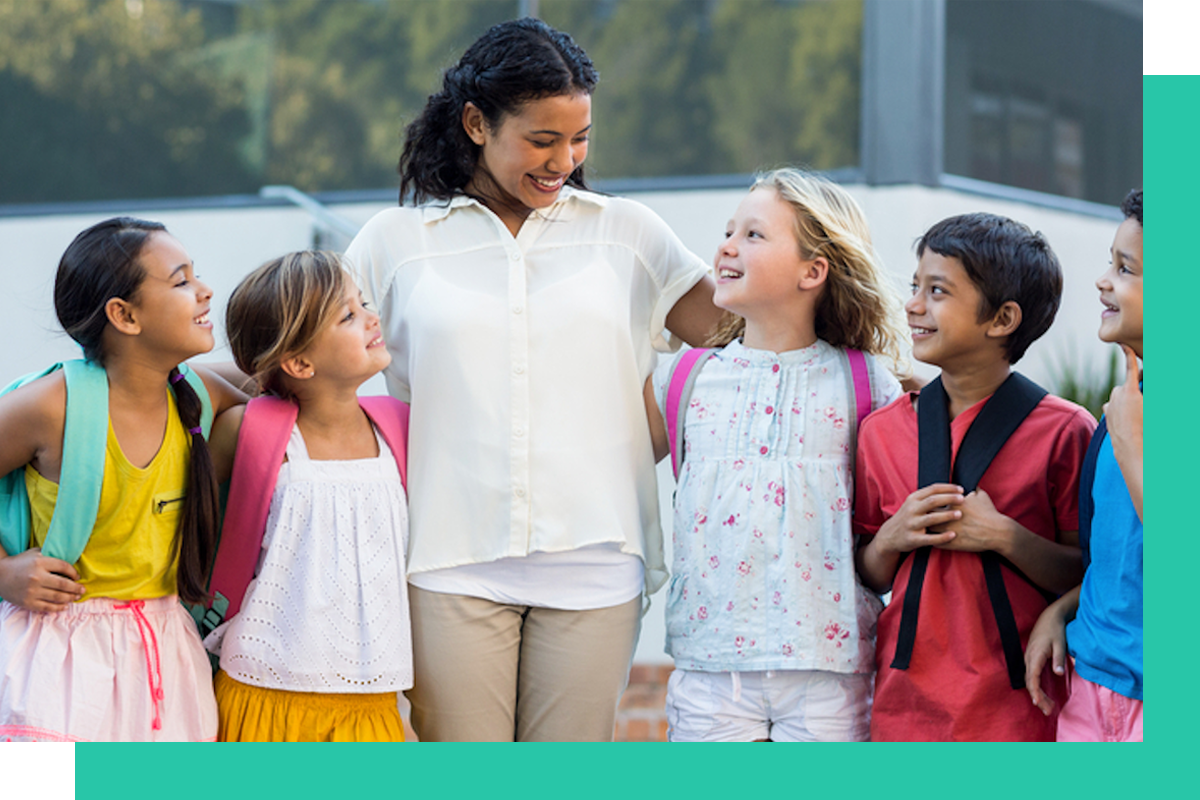 Amazing teachers start their journey here. Welcome.

Every student deserves to experience the power of a great teacher. We believe that teacher is you. Let's get you started.

Get Started
A nationally accredited Teacher Certification Program that's right for you.
Klassroom's nationally accredited state-approved Teacher Certification Program (TCP) is certifying, developing, and placing amazing teachers just like you at the head of classrooms around the country.
How do we do it? TCP is 100% online so you can study on your schedule. And our program offers the flexibility to work while you earn your teaching license, so there's no time away from an income. We're removing the barriers to becoming a teacher because we believe in teachers. We believe in you.
Download Brochure
Is teaching calling your name? Don't wait! Now enrolling for January 11, 2024
Why TCP is the best choice for aspiring teachers
We won't just get you a teaching license in under a year, we'll do it without compromising on quality of education and we'll get you to the head of a classroom.
75% of TCP candidates secured their jobs immediately upon graduation.

95% of TCP graduates received a job offer or pay increase upon program completion.

100% would recommend our program to a friend or colleague.
Learn from the best. Become the best.
Our teacher certification program was created with input from some of the best and brightest names in education. We continue to be proud to offer our teacher candidates mentorship from experts, advisors, and placement teams that support you every step of the way - from enrollment to your very first teaching job offer.
Dr. Nikki Wishard, Ph.D. in Curriculum and Instruction

TCP Online Mentor & Instructor

TCP students will work under the guidance of Dr. Nikki Wishard. In addition to an impressive career in education, she also holds a Ph.D. in Curriculum and Instruction and a Master's in Curriculum, Instruction and Assessment.

Dr. Steve Francis, Ed.D. Curriculum & Instruction

TCP Online Mentor & Instructor

TCP students will work under the guidance of Dr. Steve Francis. In addition to an impressive career in online and in-person education, Dr. Francis also holds a Master of Education and Bachelor of Education.

Jenny Bard, Ed. M School Building Leadership, M.Ed Special Education

Clinical Placement Observer

As a National Board Certified Teacher, Jenny brings over a decade of experience teaching and leading education in the K-12 setting of public and charter schools throughout the United States.
Teachers are necessary. Making them pay upfront to learn, is not.
TCP is now more affordable than ever before with easy, monthly installment plans, up-front payments, and down-payment options.
Hear what others have to say about TCP
"I cannot recommend the Teacher Certification Program through Teach Away and Klassroom more. This program allowed me to continue teaching at the school I was working at while working to become a fully certified teacher. The classwork was fast-paced but it was geared towards the knowledge that you need as a teacher in a classroom setting. Cathy was amazing to work with, she provided excellent feedback with actionable steps that help me feel more confident in my abilities as a teacher. She also has invaluable advice on how to find a wonderful job where I would be the best and provide the best education to my students."
Kaytlyn D.
"Getting the certification was one thing, but the program gave me the confidence and encouragement that I could walk in as a new teacher and be alright."
Anne R.
"Learning was always right on the curve of what I needed! No wasted time or throw away assignments - all relevant."
Kristina P.
"The flexibility of participating online while living abroad allowed me to achieve my US teaching license in a way that supported my lifestyle and schedule. I was very pleased that I could interact with peers living and teaching in the US so we could collaborate or share our understanding of the materials."
Melissa G.
"My experience with the program has given me a huge amount of confidence for my upcoming career in International Teaching. The coursework prepared me for the challenges of the Clinical Placement which provided an invaluable experience with a knowledgeable mentor teacher, unique classrooms of students, and access to resources that expanded my existing understanding. I am looking forward to the doors that my certificate will now open for me! Both Cathy and my mentor teacher have been extremely helpful throughout the process, especially during the Clinical Placement. The pacing of the coursework was intense at times, although perhaps the model that the program follows requires a fast-paced structure to get through all of the content."
Devon S.
"TCP helped me to quickly get certified in teaching. The online program allowed me to get certified while teaching full time in roughly 6 months. Not only was it fast but I learned a lot about teaching as well."
Brian M.
"I started TCP right as the pandemic became a thing. I believe after our second week the lock downs began in France. Throughout that journey TCP made adept adaptations to the situation and received an ample about of support and feedback was swift. Honestly, I was surprised how quickly help and feedback arrived and sort of felt bad like I was taking personal time away from people. Anyway, whether it was the course or student teaching the people I worked with were great and supportive and always willing and able to provide effective help for any situation. I am very satisfied with the program and it's supports and value."
Miles L.
"TCP has enabled me to pursue my career while continuing to work at my full-time job. The program is convenient and affordable. I highly recommend TCP to everyone seeking a career in Education."
Maris G.
"I was able to complete my online work self-directed and then found a really great mentor during my practical teaching practice."
Jason M.
"As an individual with a quality education in science, who has served in Hawaii public schools for five years, I have been very pleased with [TCP]. I have found the education to be enlightening and relevant. The online platform is user friendly and the staff is kind, professional and available. I am thankful that I found their brochure when I was searching for a credential program."
Lacey B.
"The Teacher Certification program has made a huge difference in my confidence in teaching and I am so grateful that I found it! I am very much loving my teaching job! I feel like it is my dream job."
Kaitlyn S.
"All of the TCP staff were great from start to finish. My online professor and placement coordinators were always available and provided encouraging feedback that helped me to improve. I loved completing my clinical placement as an emergency hire in Hawai'i and, while it was a little scary, I wouldn't have it any other way."
Matyas K.
Use TCP for a higher purpose!

Our Teacher Certification program earns you 12 elective credits credits from Hawaii's top Chaminade University of Honolulu.

Learn more

You give. We give.

Join our next cohort and refer a friend who would also make an amazing teacher. We'll give you both $50 off.

Learn more
Choosing a selection results in a full page refresh.